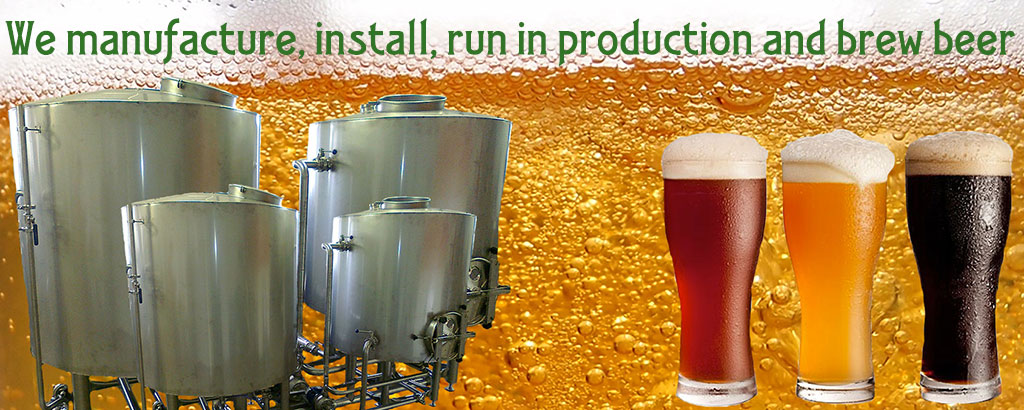 KVASURA company was founded in 2002. The main activity of the company is the production of brewing equipment, installation and commissioning of microbreweries and mini-breweries, advice on brewing.
We invite you to cooperation,
Sincerely, Head of Development Management Vito Kvasura.
We produce
Do you want to have a successful, profitable and reliable brewing business? We offer you high quality brewing equipment from Europe to brew great beer in your brewery.
You made the right choice by contacting us. Our specialists have extensive experience manufacturing mini-breweries and breweries for restaurants, hotels, bars, discos, malls. Our company operates in the market of brewing equipment for over 14 years and successfully competes with other producers in the EU. Annually beer produced at our facilities, brings joy to true connoisseurs of beer worldwide. Traditionally, our guarantee of the finished mini-brewery or a brewery is 2 years, and CCT and brew kettle- 2 years. You can be sure, our company guarantees the use of the high quality materials in the manufacture of equipment only proven European manufacturers (best metal from the German, Austrian and Czech suppliers). With the technology of brewing beer, you get high-quality of the finished product, which will attract to you loyal customers and provide a stable income.
KVASURA company provides a full range of equipping the brewery, which includes design, manufacture, installation, commissioning and startup of your microbrewery or brewery capacity from 100 to 5,000 liters per day.
We will be glad to cooperate and answer any questions!
Yours faithfully, collective enterprises producing brewery equipment KVASURA.